---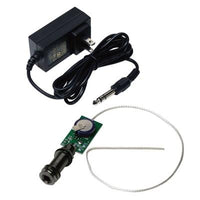 Please note:  THIS IS ONLY AN ADD ON... I can not sell the MiSi Acoustic Trio on its  own!  I can only install them in ukuleles that are purchased from my shop!  Thank you!
Acoustic Trio Uke
Simple Jack & power charger with L.R. Baggs ukulele pickup
The Mi-Si Acoustic Trio Uke system features an active, battery-free preamp designed specifically to work with the L.R. Baggs ukulele pickup.
The preamp for this system uses Mi-Si's custom piezo linearization scheme – allowing for the most truthful and accurate sound from the pickup.
All you have to do is power up for 60 seconds using the Mi-Si Power Charger, providing you with up to 16 hours of performance time.
This is the pickup I use personally because I love the ease of charging it and being ready to hit the stage!